Dates: April 16 - May 23, 2009
---
curator's statement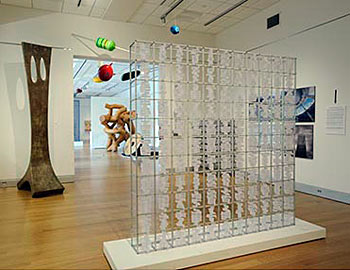 Michael McGinnis
Art is often a private exploration, or at the very least, held privately in one's home to enjoy or inspire. Public art, on the other hand, is exposed for all to see and criticize. Public sculpture is a special sub-set of public art that is not only exposed to the masses, but often to the elements as well. Some may view these pieces as a symbol of culture, others as an eyesore. Wind and weather can wreak havoc, destroying all but the most robust construction. Public sculpture requires engineering as well as acceptance. No other art form is tested under such demands.
Historically, public sculpture was used to convey aspects of local lore, political and military victory, or socially significant events and individuals. This work identified a community, its culture and mores. With the advent of abstraction, public sculpture became less recognizable in a figurative way, though works are still commissioned based upon those old ideas. Creating identity is a salient purpose of public art.
What does modern society wish to accomplish by placing sculpture in public places? There are two elements to be considered: intention and perception. What the public perceives may not reflect the desire of those charged with the responsibility of commissioning these works of art. Strong work can transcend original intention, helping a community to grow in aesthetic understanding. Weak work can become a focus for disagreements about public spending on the arts, attacks on art in schools, and even the downfall of politicians.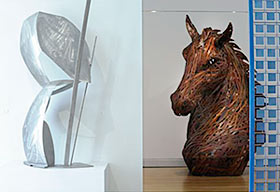 With such a complex dynamic, it is a tribute to those who have weathered the storms to create wonderful public collections for all to enjoy. Great cities of the world are bastions of culture, having the resources, both intellectually and financially, to commission significant works of art. Who are those charged with the responsibility to make such decisions? Most often they are the politically active and astute individuals interested in enriching the community. Finances for public artwork may come from sources such as commercial construction taxes, public and private endowments, or federal matching funds. Fund raising is crucial the selection of meaningful works of art.
Artists who engage in the creation of public sculpture are a special breed: salesperson, educator, bean counter, and mind reader. The most successful have the stamina to withstand constant rejection, but with enough commissions under the belt success becomes easier.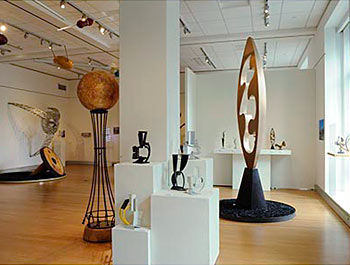 There are two distinct ways an artist can approach the topic of public commissions. One is to look at what is being asked for by the commissioner, thereby creating proposals that best fit the criteria set forth. Another approach is to put forth their personal vision in spite of the stated requirements. The first choice may yield a small success but with the potential of making a confused portfolio. The latter alternative may be a more difficult path but in the end results a strong body of life work.
In the end, all involved in public sculpture must be flexible, have integrity and resolve. Nothing demonstrates the vibe and culture of a community so directly as do public works of art. And most bold are those of public sculpture, because little else in our world has such exposed roots.
We have two guest speakers, funded by a grant from the Santa Rosa Junior College Foundation-Randolph Newman Cultural Enrichment Endowment. On Friday, March 24th at 7PM, "Bruce Beasley in Discussion: Public Art, What Works, What Doesn't, and How To Make It Better". Then on Tuesday, May 5th at noon, "Growing Up In Public: A Journey With Michael Stutz". These are free to the public.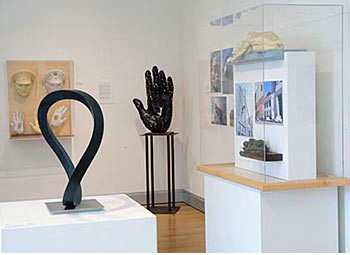 Here is a major thank you to those who have helped on this exhibit! Eva Banister, Jennifer Tilton, James Yonts, and Deborah Brecher have contributed untold hours to assist me. Stephanie Sanchez, Michael Hayden, Christina Lucas, Carla Stone (and her students), Bernadette Fay, the Voigt Family Sculpture Foundation, and my family (Becky, Sam and Laura) made sure to get it all together. The Arts Council of Sonoma County helped with lecture logistics and information dissemination. Without the support of these people, I'd still be dragging sculptures in the doors, and wishing people would come to see the show.
---