November 12 to December 10, 2015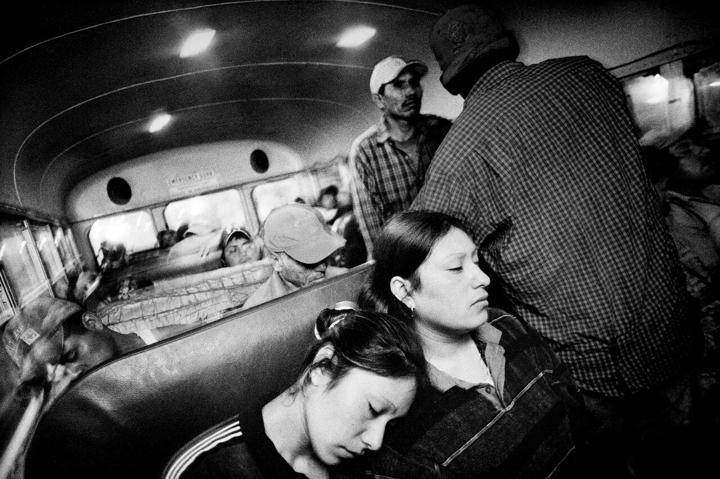 The exhibit "Framing Migrant Labor" features "Clouds to Dust", photo essays by award-winning documentary photographer Matt Black. Matt Black's work has been profiled in The New Yorker, National Geographic, Time and Slate. He just gave a workshop for Eddie Adams Workshop and is currently showing his work in NYC at the Magnum Foundation. In October 2015 he received the W. Eugene Smith Award in Humanistic Photography. Accompanying Black's work are photos from the 1930s through 1970s by Sonoma County photographers Morrie Camhi, Otto Hagel, Hansel Mieth and Ernie Lowe.
Gallery Talk:  November 17, Agrella Art Gallery

Lecture: Ernie Lowe Photographing Migrant Labor in 1966. Petaluma Campus Library - Connie Mahoney Reading Room. Dec 1, noon – 1pm
Major funding for this exhibit and related events was provided by a grant from the SRJC Foundation.
---
Curator's Statement
In the latter part of the 19th century, millions of Europeans came through Ellis Island to find a better life, yet many of them ended up poor and destitute in New York City's horrific tenements--dark airless places filled with disease and crime.
Jacob Riis photographed these conditions in the late 1880s to show what most Americans were unaware of. Social documentary photography has been used ever since to confront us with visual evidence in an attempt to change circumstances.
The poor from many countries are still seeking a better life in America for themselves and their families, and many of them end up in the Central Valley as agricultural workers doing the backbreaking work of harvesting fruit and vegetables. Farm laborers migrate from crop to crop, under harsh, exhausting and even dangerous conditions.
In 1960, broadcast journalist Edward R. Murrow presented Harvest of Shame, a television documentary that showed the dire straits of migrant farm workers. Many of the conditions exposed in the documentary, which was intended "to shock Americans into action," seem to be unchanged when we look at the photos in this exhibit, "Framing Migrant Labor." From Ernie Lowe's photos of the Wilsons, who traveled in a tiny trailer housing seven people, to Morrie Camhi's extended Espejo: Reflections of the Mexican American, - to Matt Black's Clouds to Dust photos of current workers in their shantytown quarters, we encounter human beings with dreams and hopes to better their lives. Despite their long, hard hours of work, they earn less than a poverty income. After leaving Germany, Otto Hagel and Hansel Mieth lived the immigrants' experience. --the only work they were able to find in the early 1930s was farm labor. Their photographs of their fellow camp workers informed their entire photographic work in a deeply humanistic way.
Matt Black, a son of the Central Valley, has used the framework of the photographic essay to document drought, migration and poverty in stark compelling black and white photographs. His striking images speak without hesitation, in a direct, honest and sincere voice. His recent switch from analog photography to digital images shown on Instagram earned him TIME magazine's Instagram's Photographer of 2014 Award, as well as the 2015 Eugene Smith Grant for Humanistic Photography.
I came across Black's work in his photo essay "The Dry Land," which appeared in The New Yorker in 2014, and I immediately knew that I wanted to bring his work to the SRJC gallery, where students and the community at large will see it. The photos by Morrie Camhi, Otto Hagel & Hansel Mieth, and Ernie Lowe, all having ties to Sonoma County, provide a historical and local framework for the exhibit.
With the college's HEP program, which helps agricultural workers obtain a High School Equivalency diploma, there is hope in our county to make the workers' dreams, of a better future, come true.
Renata Breth, Curator 
November 2015