---
February 4 – March 7, 2013
Curated by Suzanne Lacke
Curator's Statement: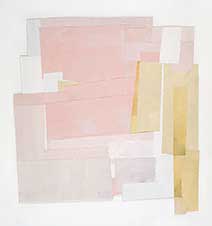 The work of Emily Lazarre, Connie Goldman and Judith Foosaner is abstract, without obvious imagery. It also shares the sense of coming off the wall slightly, like a relief, somewhere between painting / drawing and sculpture. There is a kinship in Judith's and Emily's procedure of preparing paper first, in Emily's case with paint and in Judith's with charcoal, graphite and paint and then cutting and placing pieces in relationship to each other. Emily and Connie share the pushing of edges, eschewing the straight edges of the rectangle in favor of pushing the work out into the space around.
I have known Emily Lazarre and Connie Goldman as friends, colleagues and fellow artists for many years. Emily introduced me to Judith Foosaner's work at an exhibit at Brian Gross Fine Art in San Francisco. I was thrilled by her work, wanted to see more and began to think that there was a relationship between the work of Connie, Emily and Judith. The idea for this exhibit began at that point.
All three share a dedication to their process, to hard work and intense exploration. They use the basic tools of art: line, shape, color, space, and value, to shape their vision and to express it. Dance, calligraphy, memory, music, science are some of the sources for their art. In their work they establish relationships, which create rhythms, balance and structure. These things tell the story. The work to me is like the surface of water, a result of what is going on beneath: expansion and contraction, abundant life, turbulence, memories, joys, fears and exuberance. Each of them seems to come to a point in their work where there is crystallization, a synthesis, a "still point"*.
The title of the exhibit is derived from T.S. Eliot's The Four Quartets.
As an artist I work with images but I know the importance of the abstract in any piece of art. In the work of Judith, Connie and Emily there is no obvious imagery but emotion and meaning are there as much as if it were a painting or drawing of a mother and child, a crying woman or a dancing couple. All three are very articulate about their work and their process. We have convened at each person's studio to discuss work and the dialogue has been exciting for me. I thought it would be a great opportunity for the students at Santa Rosa Junior College to have the chance to see their work and hear from the artists through their artist's statements. In addition there will be a panel discussion moderated by Karen Petersen on Monday, March 4th at noon in the gallery. You will be able to hear from the artists themselves about their work, their inspiration, artists who have influenced them and their careers as artists and teachers. They will be joined in the discussion by Michael Schwager, Gallery Director at Sonoma State University Art Gallery.
* "At the still point of the turning world. Neither flesh nor fleshless;

Neither from nor towards; at the still point, there the dance is,

But neither arrest nor movement.  And do not call it fixity,

Where past and future are gathered. Neither movement from nor towards,

Neither ascent nor decline. Except for the point, the still point,

There would be no dance, and there is only the dance."
Suzanne Lacke, Curator
---