Stephanie Sanchez, Robert F. Agrella Art Gallery Committee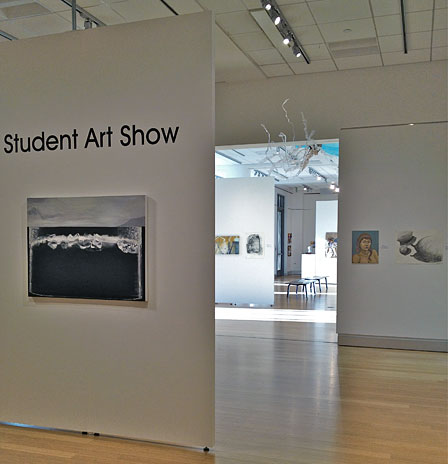 Santa Rosa Junior College Robert F. Agrella Art Gallery is proud to present the annual 2011-2012 STUDENT ART SHOW.
This event showcases the enormous talent of our SRJC art students and affords the opportunity to share their works with the SRJC student body and the community surrounding the college.
The SRJC Art Department offers classes in photography (both digital and traditional), ceramics, painting, drawing, design, printmaking and sculpture.
Student's name, course in which the work was produced, instructor's name and medium are listed on each piece.
Our intention is to acquaint students with examples of work done in various classes so they can get a feel for the kind of assignments they can expect from various teachers.
An unseen but essential component of the show is the work students do for the "Exhibition Design" class taught by Carla Stone. Under her direction, students learn how to install works of art and take charge of the mechanics of mounting an exhibition from the ground up.
Acknowledgments 
We thank Carla Stone for her dedication. 
Thanks also to Ty Benoit, Dean; Mike Garcia, Graphic Design; James Blue and Trevor Alixopulos, Media Services; and Renata Breth, Gallery Director.