---
April 28 – May 15, 2014
Sunday May 4 – Day Under the Oaks
---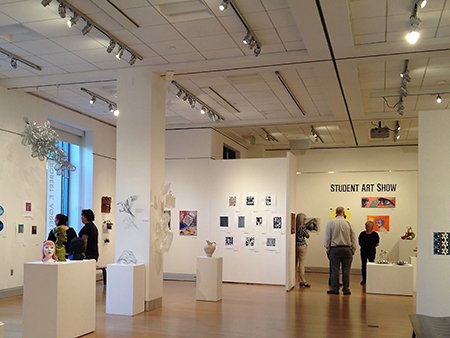 Santa Rosa Junior College Robert F. Agrella Art Gallery is proud to present the 2014 STUDENT ART SHOW.
This event showcases the enormous talent of our SRJC art students and affords the opportunity to share their works with the SRJC student body and the community surrounding the college.
The SRJC Art Department offers classes in photography (both digital and traditional), ceramics, painting, drawing, design, printmaking and sculpture.
Each piece lists the Student's name, course in which the work was produced, the instructor's name and the medium. The information acquaints students with examples of work done in various classes so they can get a feel for the kind of assignments they can expect from various teachers.
ACKNOWLEDGMENTS
We thank Dean Nancy Persons for her support of the gallery and Nick Vankrijdt, STNC Exhibit Specialist, for laying out and installing the exhibit and our student volunteer Y Pham for creating and mounting of the labels, James Blue, Media Services; the members of the Art Gallery Committee and Renata Breth, Gallery Director.
Stephanie Sanchez, Robert F. Agrella Art Gallery Committee