---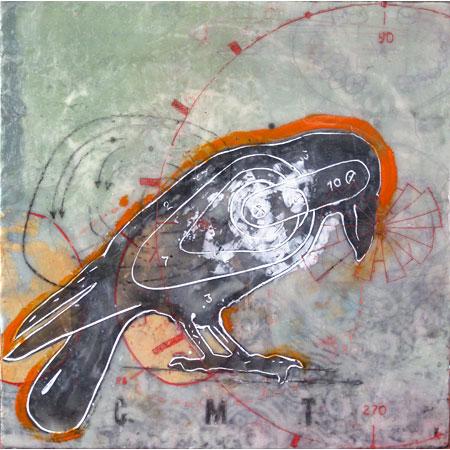 Contemporary Encaustic Painting in Northern California
Curated by Thomas Morphis
January 21 - March 6, 2010
Dan Taylor on the fine arts scene. Press Democrat
Evidently told at some point to mind their own beeswax, some Northern California artists have come up with impressive results, working with wax to master a technique known as encaustic painting.
A new exhibit showcasing their efforts, 'Working with Wax: Contemporary Encaustic Painting in Northern California,' curated by Thomas Morphis, opens with a reception from 4 to 6 p.m. today (Thursday, Jan. 21) at the Santa Rosa Junior College Art Gallery. The show continues until March 6.
Artists featured include Tracey Adams, Mary Black, Emily Clawson, Robin Denevan, Eileen Goldenberg, Howard Hersh, Lisa Kairos, Julie Nelson, Mark Perlman, Carrie Ann Plank and Eleanor Wood.
One of the artists, Mark Perlman, will give a talk on encaustic painting from noon to 1:30 p.m.  in Newman Auditorium, Emeritus Hall, at the Elliot Avenue end of the SRJC campus.
Another of the artists, Mary Black, will conduct a demonstration of the technique from 1 to 4 p.m. Feb. 4 in the Art Gallery, located on the first floor of the Frank P. Doyle Library on the main SRJC campus, 1501 Mendocino Ave., Santa Rosa.
Gallery hours are 10 a.m. to 4 p.m. Monday through Thursday, and noon to 4 p.m. Saturdays. Information: 527-4298, santarosa.edu/art-gallery.
---